Darlene Gait wishes to thank everyone who has helped to make this
website such a success in the past. We have moved to a new website at
http://www.onemoon.ca. This site is no longer maintained or updated.
We hope to see you there soon.
DARLENE GAIT - NATIVE CANADIAN ART GALLERY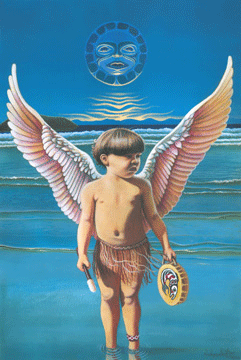 Faith
Walk on water
Heal the sick
Help those in need
Learn about humanity, for they are your family
Love yourself and be humble
Look to the sky for strength
Close your eyes and dream
Wake up and begin again
and above all, have faith in your self
and you will go far...
Original Medium: Acrylic on Watercolor Paper
Original Image Size: 17" x 22"
Date Created: June 2001
Limited edition giclée prints available; various sizes, on paper and canvas, please click the "BUY NOW" button to check availability.