Darlene Gait wishes to thank everyone who has helped to make this
website such a success in the past. We have moved to a new website at
http://www.onemoon.ca. This site is no longer maintained or updated.
We hope to see you there soon.
DARLENE GAIT - NATURE GALLERY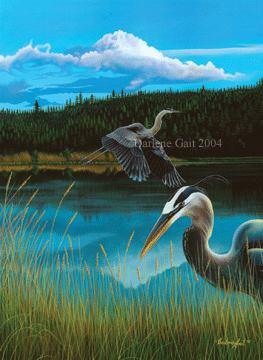 The Fisherman (Great Blue Heron - Cowichan Valley Bird Sanctuary)
Original Medium: Acrylic on Paper
Original Image Size: 22"x30"
Limited edition giclée prints available; various sizes, on paper and canvas, please click the "BUY NOW" button to check availability.